Online Safety for Parents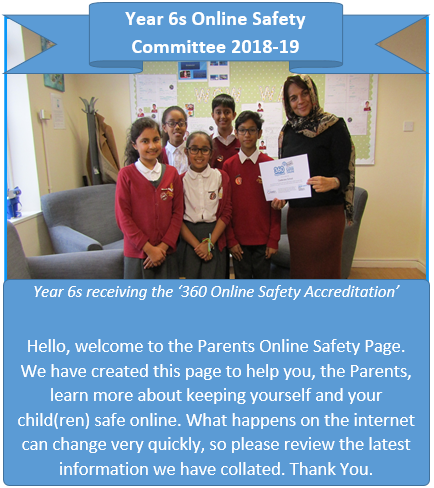 Online Safety Committee (November 2020)
On Thursday 5th November, the first Online Safety Committee meeting of the year was held. There was a packed agenda, items discussed included:
The role and responsibility of the committee

The terms of reference for 2020

Acceptable use policies for staff and children

A review of the Goggle Legends Online assembly

Online Safety instances
The Year 6 Digital Leaders made some fantastic contributions. The highlight of the afternoon was the presentation of brand new committee badges. The staff, including Mrs St Ledger (governor) who received hers virtually, were particularly excited to be awarded a badge!
'Be Internet Legends' (November 2020)
Castleview had its first ever live, online Assembly! Google and Parent Zone delivered an Online Safety assembly entitled 'Be Internet Legends' to all the children in Year 2 through to Year 6. The children learnt that to make the most of the internet, they need to make smart decisions. The assembly taught the children about the Legends' pillars: to be Sharp, Alert, Secure, Kind and Brave. This was also an interactive experience as the class teachers were able to feedback responses to the live studio via the online chat. The theme of the assembly was to empower younger children to use the web safely and wisely, so they can be confident explorers of the online world.
Year 2, Year 3 and Year 4
Year 5 and 6

Student Code of Conduct (September 2020)
To ensure the continuing education and online safety of Castleview's students, the children spend a portion of their year's first Computing lesson on a Code of Conduct. The Code keeps the children up to date with the latest guidelines and ensures they know exactly what to, and not to do online. These are are all discussed and understood as a class, before every individual in KS1 and KS2 signs their own personal copy.



Alan Mackenzie Workshop (November 2019)
Every year, we invite the Online-Safety consultant, Alan Mackenzie, to advise us about how best to stay safe online. He speaks to Year five and six pupils about Apps, Games and Social Media and delivers a workshop to Parents, with tailored advice to help them stay up to date with the latest information. Every year the children and adults come away learning lots and changing their online habits!

Stay up to date and keep your child safe in today's digital world
Parent Zone have produced a guide to all the latest online platforms that are currently trending with young people, entitled "The apps and services you need to know"
Follow the link https://parentzone.org.uk/advice/parent-guides
The new Better Internet for Kids (BIK) website features a section specifically dedicated to parents and carers to help them influence, support, educate and protect their children in the online world.
https://www.betterinternetforkids.eu/fr/discover/parents-and-carers
Click here for your parent guide to the social networks, websites, apps and games that children are currently using from Common Sense Media, NSPCC and O2.
Common Sense
Kids today spend over 50 hours of screen time every week. Common Sense helps adults and kids thrive in a world of media and technology. One of the services they provide are trusted reviews for Games, Books, Apps and Movies - so you know exactly what is and is not appropriate. Click on the image below to visit:
Online Microsoft's Top Tips for Safer Families
For more detailed information and advice from the company, visit: Microsoft - Online Safety.
Click here for general information, advice and guidance on keeping your children safe online.

Click below for useful information provided by vpnMentor